This Druid legendary seems underwhelming and doesn't seem to be on the same level as the other Witchwood cards revealed for Malfurion.
This card was revealed by BlackFireIce on Facebook. The video is in Polish.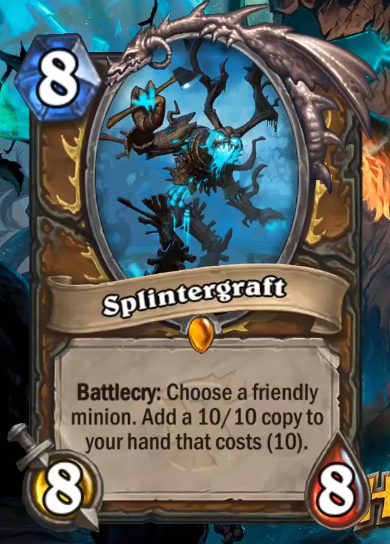 Screencap from the video
Looking at the trend that has started from Kobold & Catacombs, it is a nice surprise that Splintergraft has vanilla stats for a late game Legendary minion. Perhaps this is the case because it's effect is not that amazing. There could be a use for it in Big Druid or you can just copy something meme-y like Stonetusk Boar or Saronite Chain Gang. Just for the stats, it's not a bad card to include in one's deck (what type of deck would that be is another question), but I think it's more of a win more card and it doesn't seem broken enough.
Judging from the artwork, the next card that is going to be revealed is the first Mage legendary minion (you can find the schedule here)! Make sure to check out our Witchwood hub for the latest card reveals and all the information you need about Hearthstone's new expansion.
In-Game Guides for WoW and ESO
Power level your characters, make thousands of gold, earn achievements, and more...